Awards Show Moments That Were Probably Staged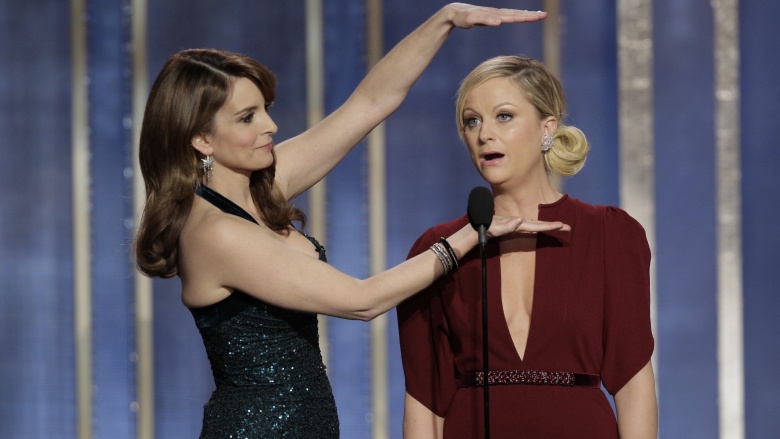 Getty Images
Awards ceremonies are so much more than dog and pony shows where celebs pat each other and themselves on the back for their achievements. They are actually events that are ripe for dramatic moments, fights, smack talk, A-list selfies (we mean you, Ellen!), pop diva makeout sessions (Madonna x Britney x Christina), and more. It's what keeps the fans tuning in year after year and keeps the chatter going long after the last statue or accolade is handed out. These awards show moments were way memorable. They were also likely staged for shock value or to sustain publicity and interest in the event. Plus, staged dramas lead to makeup moments (and ratings) for the following year's telecast.
Jennifer Lawrence's 2013 Oscar Fall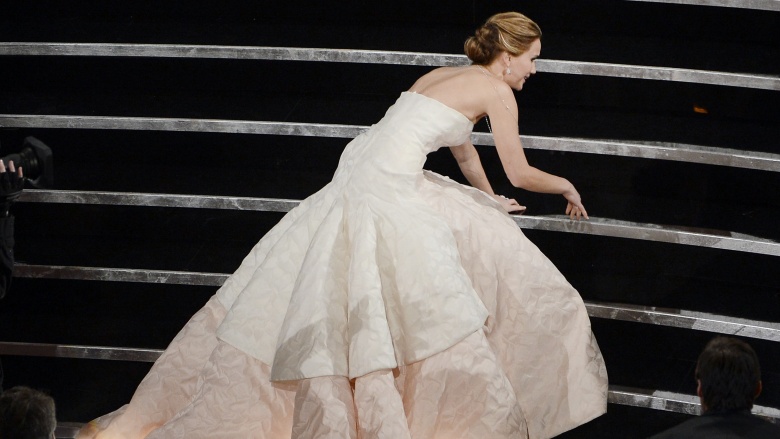 Getty Images
When Jennifer Lawrence won her Best Actress Oscar for The Silver Linings Playbook, she ascended the steps to the stage in what amounted to a constricting ball gown. She tripped and it was actually endearing and made her seem so real and relatable. But was it an accident? Or was it a carefully orchestrated tumble done to make her seem "just like us?" There's lot of speculation and conspiracy theories about J. Law's falls being faux...
Jennifer Lawrence's 2014 Oscar Fall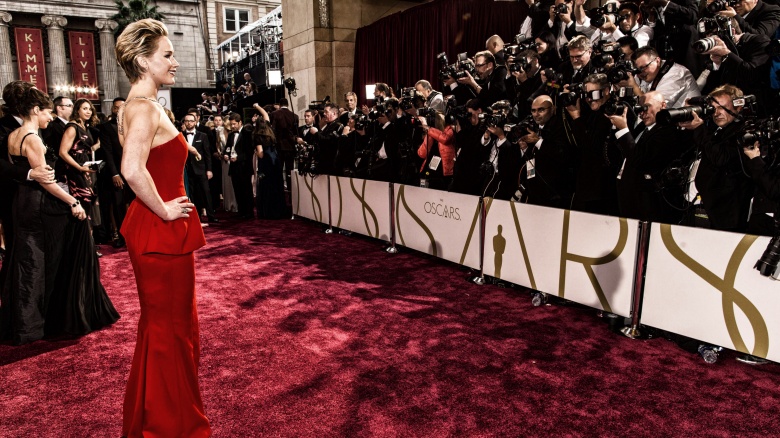 Getty Images
J. Law also fell on the red carpet at the 2014 Academy Awards, leading fellow actor and Oscar-winner Jared Leto to wonder if her falls were choreographed and were her "thing." He mused about whether or not it was an act to Access Hollywood. While it's very possible that the actress is a total klutz, especially when wearing heels, tight couture dresses, and while dealing with dozens of cameras in her face, it seems a bit too convenient that she isn't more careful with her steps during such huge moments. One fall seems authentic. But a reprise a year later? Not so much...
Taylor Swift And Kanye West At The 2009 VMAs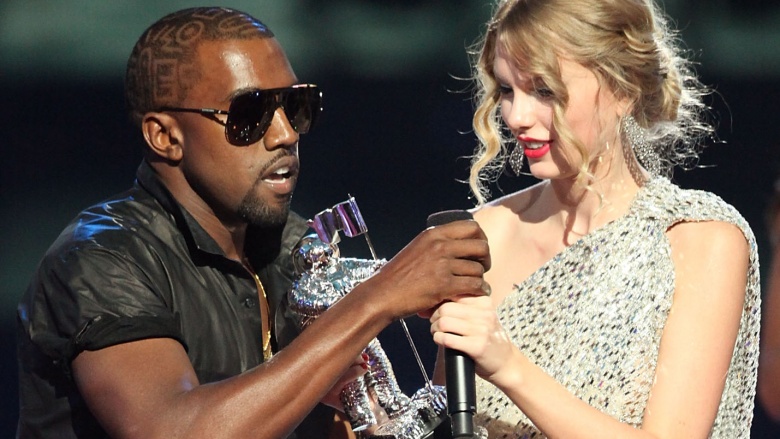 Getty Images
MTV, Taylor Swift, and Kanye West all got years of residual press when West tried to jack Swift's Best Female Video Award and attempted to repurpose it for Beyonce. There was tension for years and the media spilled pages of ink about their pop-music feud. Did you ever stop to think that perhaps Yeezy was prompted or encouraged to crash Swift's party with his "Im'a let you finish" interruption? The VMAs are always about drama, drama, drama.
Taylor Swift And Kanye West At The 2015 VMAs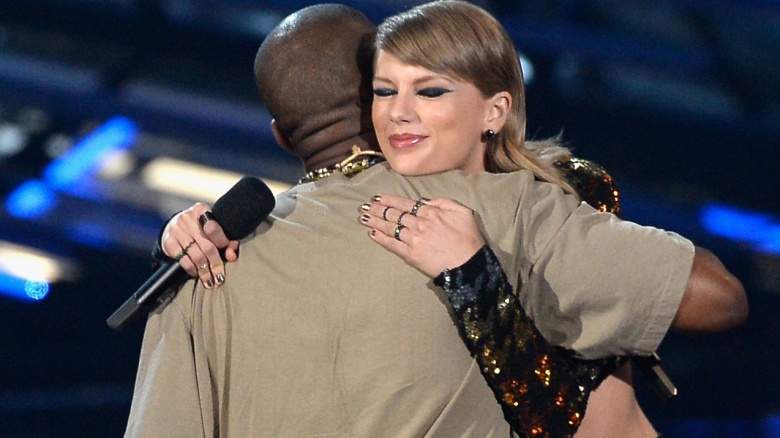 Getty Images
Swift and West buried the hatchet when America's Sweetheart presented Yeezy with the Video Vanguard Award six years later, calling him her "friend." Swift and Yeezy...friends? That'd make them "Sweezy" or "Swizzy." Cute portmanteau name aside, we seriously doubt these two are pals or BFFs or text each other fun selfies while out and about. We don't see West as part of Swift's squad, hanging out with her on holidays like Lorde, Selena Gomez, Karlie Kloss, and the rest.
Miley Cyrus And Nicki Minaj At The 2015 VMAs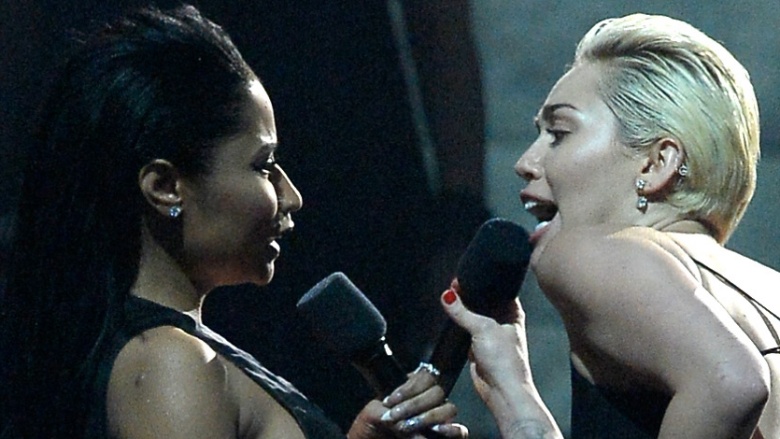 Getty Images
Miley Cyrus hosted the 2015 VMAs, and during the pre-show press run, she made comments about Nicki Minaj in a New York Times interview, saying the rap vixen is "not polite." While Minaj was accepting an award, she stopped and addressed Cyrus directly, saying, "What's good?" There were rumors it was faked because Minaj was seen flashing a smile beforehand and MTV posted a graphic about the beef almost immediately after, suggesting the network knew this would go down and was prepared for social media blitz so it could be milked it for all it was worth.
Taylor Swift, Tina Fey, And Amy Poehler At The 2013 Golden Globes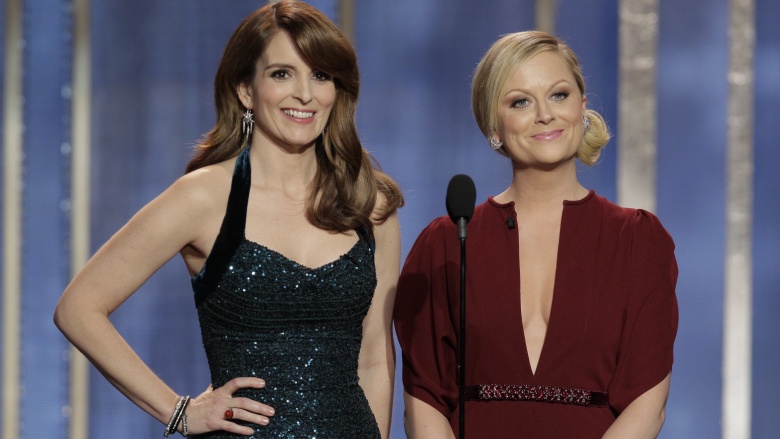 Getty Images
Hosts Tina Fey and Amy Poehler made a joke about T. Swift's love life at the Golden Globes, noting that Michael J. Fox's son needed to stay far, far away from the singer. Swift took it very personally. It was a good-natured jab by two sassy and funny gals. How could Swift have interpreted it as anything but? It was so obviously in-jest and was hardly the worst that has been said about her dating life. Plus, Swift does seem to have a solid sense of humor about herself. It seemed like she may have been overly sensitive or perhaps she played it up as more than it was since she went on to tell Katie Couric that there is a special place in hell for women who commit girl-on-girl crime. Swift got a lot of media mileage and stoked her image as American's put upon sweetheart after the Fey x Poehler diss. She was also able to further foster her girl squad form of feminism, which is burning at a fever pitch.