Drake And Eminem Quash Their Beef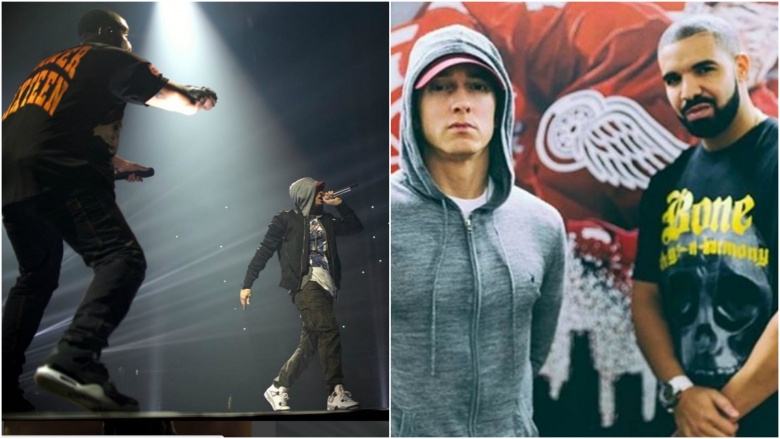 Getty Images
There's nothing but love between Eminem and Drake.
Rumors of a beef between the two hip-hop heavyweights began after Hot 97 radio host Ebro Darden claimed he had a private conversation with Drake in early August 2016. Drake had previously dissed Eminem's pal, rapper Joe Budden, and Darden claimed he and Drake discussed the possibility of Eminem coming out with a retaliatory dis track. Drake supposedly replied, "That's not gonna happen. He'd never do that, and if he did, I got something for him too," implying that a full-blown rap war could be on the horizon.
Darden later backtracked on Twitter, saying he was joking about the entire thing. It turned out the hearsay was, in fact, false, because the rappers have since dished out a tremendous helping of mutual respect and admiration. On Aug. 16, 2016, Rolling Stone reported that Drake brought out Eminem during his own OVO Fest tour stop in Em's hometown. "Detroit, make some noise for the greatest rapper to ever get on the motherf**ing microphone," Drake told the crowd. "He goes by the name of Eminem," adding, "Legendary s**t tonight." Eminem was just as kind talking about Drizzy. "It's an honor to share the stage with this man right here," he said.
The love continued on Instagram with Drake posting, "Shared the stage with the GOAT ['greatest of all time'] for Detroit. Done the hype."
The latest rumors surrounding these two, according to the Los Angeles Times: a collaboration. Here's hoping those stories prove true.
https://www.youtube.com/watch?v=eqAz1Tdsx2s&feature=youtu.be