Thomas Gibson Divorce Filing Exposed In Light Of Firing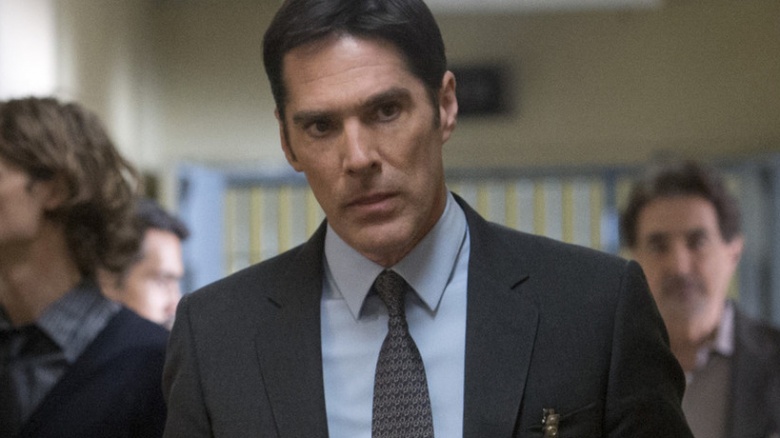 Actor Thomas Gibson's questionable actions led to him being sacked from Criminal Minds, but here's what could've fueled all that anger: he's been in the midst of a quiet divorce. It sure would explain the stress and outbursts, as his troubles aren't just relegated to his professional life.
Gibson, 54, filed for divorce from his wife of more than 20 years, Christine, back on June 18, 2014, Radar Online reports. In the filing, Gibson says he and Christine "ceased to live together as husband and wife...The marriage has become insupportable because of discord or conflict of personalities...that destroys the legitimate ends of the marriage relationship and prevents any reasonable expectation of reconciliation."
Christine responded with a general denial on June 27, 2014; Gibson then filed a counterpetition reaffirming his initial filing in December 2015. Gibson's marriage first showed signs of trouble in August 2013, when he fell victim to a catfish scheme.
A woman, using photos from multiple X-rated sites, reportedly contacted Gibson over Twitter and carried on a two-year online romance with the actor. When he realized she lied about her identity and that he'd been had, his lawyers sent her a letter telling her to stop contacting him, TMZ reported. Unfortunately for Gibson, the woman then sent TMZ a video he'd sent her from a hot tub in December 2012. At the time, Gibson insisted the video was heavily edited—and that he and his wife had been separated for more than two years when it was filmed.
It's unclear whether Gibson and his wife will go through with the divorce, and Radar Online claims it will be dismissed if neither party makes a move by December. A source told People that, in light of Gibson's firing, his family is his foremost concern. It's also why he scheduled his Criminal Minds shoots so tightly—so he could see his wife and kids in Christine's hometown of San Antonio, Texas.
"Thomas is the most kindhearted family man," the source said. "He's a great father, takes care of his mom and spends as much time with his kids as possible. He's a great guy."