Did Amber Heard Really Have An Affair With Billy Bob Thornton?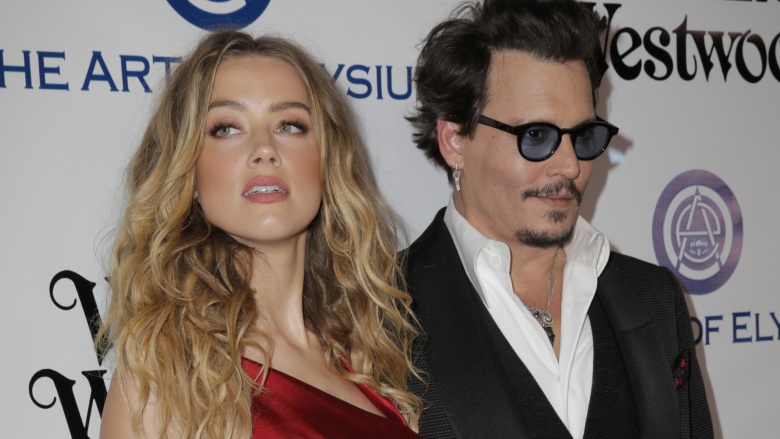 Getty Images
The divorce between Johnny Depp and Amber Heard took yet another ugly turn this week amid reports that Depp once accused Heard of having an affair with her London Fields co-star Billy Bob Thornton.
Now, sources for Heard are denying the affair ever happened to begin with. "There is no way Amber had any kind of relationship with Billy Bob Thornton," a source close to the Danish Girl co-star told Us Weekly on Tuesday, August 16th, 2016.
The alleged affair was first reported by TMZ on August 15, 2016. According to the report, Heard and her representatives alleged the couple had a "fierce argument" in March 2015 at the couple's villa in Australia, where Depp was filming the fifth movie in Disney's Pirates of the Caribbean series.
During the argument, Depp — who was allegedly "drunk and high on ecstasy" during the fight — "accidentally cut off his fingertip in a fit of rage" and proceeded to dip the finger in blue paint and smear the words "STARRING BILLY BOB AND EASY AMBER" on a nearby mirror, TMZ reported. Depp also accused Heard of sleeping with other men in addition to Thornton, which Heard denied as well. The report adds that Heard is using the photo of Depp's cut finger as an exhibit in her domestic violence case against her husband of barely over a year.
Also denying the affair is Thornton himself, who called the reported allegations "completely false" in a story published by TMZ on August 16th. According to Thornton's side of the story, the Oscar-winning actor "never socialized with [Heard] off set other than a cast dinner" and that their relationship on set was strictly professional. Thornton added that he never once spoke to Depp while he was on set.
These reports mark the latest in a drama-filled saga that began when Heard filed for divorce from Depp in May 2016 and subsequently accused him of domestic abuse. As Nicki Swift reported on Monday, a video allegedly showing an argument between Heard and Depp leaked to TMZ over the weekend. In the video footage, Depp is seen slamming cabinets, swearing, and throwing a wineglass across the room before realizing he was being recorded by Heard. Sources for TMZ later described the footage as heavily edited, and Depp's camp claims it was a setup by Heard.