Thomas Gibson May Sue Over Criminal Minds Firing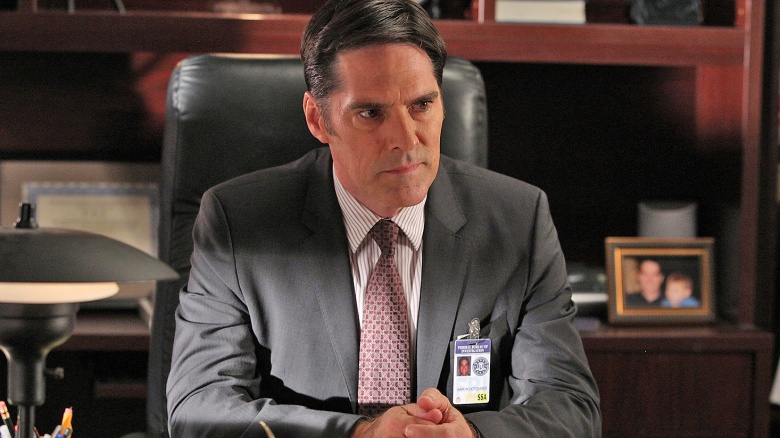 Hotch is beefing up his legal team after lead actor Thomas Gibson was let go from the CBS police procedural crime drama, Criminal Minds.
The Hollywood Reporter confirmed that entertainment lawyers Skip Miller and Sasha Frid will represent Gibson, 54, after he was fired from Criminal Minds. For nearly 12 years, Gibson played the series' main character, Special Agent Aaron Hotchner. It's unclear what, if any, claims Gibson would seek against CBS or ABC Studios, who let him go after it was revealed he got into a physical altercation with co-executive producer and writer Virgil Williams two weeks ago. Based on his previous actions, we're not all that surprised.
An internal investigation from CBS is ongoing, with show staff members and castmates reportedly siding with Williams in the dispute. The Hollywood Reporter notes that several show staffers witnessed the incident, though a source close to Gibson told Page Six, "It wasn't like [Gibson] punched him. Williams is a boxer and a martial artist, he's no angel. He can be very aggressive... [Williams] got very aggressive, so Thomas walked away and then he felt like the guy was coming after him. He turned around and kicked just on instinct, like a reflex."
It's worth noting that Gibson's official statement following his firing never expresses remorse towards any wrongdoing, possibly because he and his team want to maintain that there wasn't any. "I love Criminal Minds and have put my heart and soul into it for the last 12 years," he told People. "I had hoped to see it through to the end, but that won't be possible now. I would just like to say thank you to the writers, producers, actors, our amazing crew, and most importantly, the best fans that a show could ever hope to have."
Gibson's legal claims may be similar to Charlie Sheen's when he sued Chuck Lorre and CBS for firing him from Two And A Half Men in 2011, in which Sheen claimed he "suffered the intangible loss of employment-related opportunities." However, when Sheen was fired for erratic behavior, there was no physicality involved, so the likelihood of a settlement pleasing to both parties may be very different for Gibson.