Tyrese Gibson Defends Vin Diesel In Feud With The Rock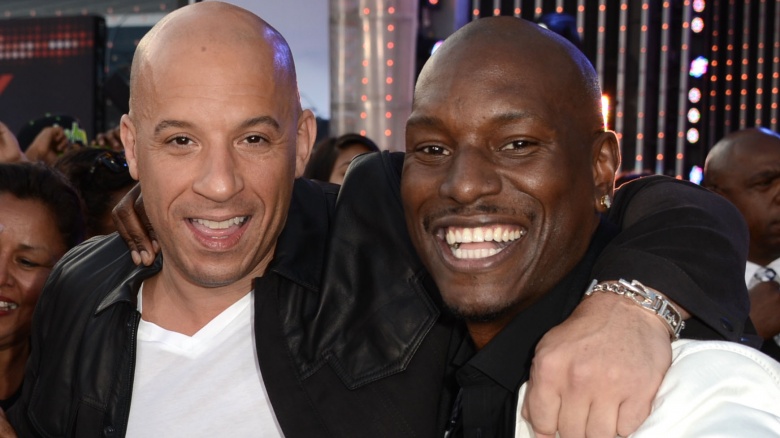 Getty Images
Just days after taking himself out of the running for Dwayne "The Rock" Johnson's fury, Tyrese Gibson is defending the true target of the former wrestler's rant: Fast 8 (2017) star Vin Diesel.
The Rock and Diesel basically broke the Internet in a passive aggressive war of words over social media. The issues reportedly stem from Johnson losing his patience over Diesel's diva demands on set of the eighth installment of The Fast and the Furious franchise—something Diesel's camp firmly denies.
Gibson posted a photo of himself and Diesel on Instagram with a long-winded, heartfelt caption. "Spreading love always...we've celebrated in too many countries, too many exchanges, too many play dates with our angels...Our brotherhood and every moment has inspired me to be a better man and father...So much strength to pull from...I'm so f***ing proud to call you my family and my brother...even now I'm learning so much about sitting still and being centered in the mist [sic] of all of this unexpected energy," he wrote. "If no one else will jump out there and stand up I will—You're my brother for life. Let's keep it positive and keep rockin' this thing...#FastFamily."
Soon after, Gibson posted another photo of himself and Diesel with their arms around one another.
So far, aside from Diesel and Johnson themselves, Gibson has been the most vocal co-star regarding the feud. TMZ reported that the beef has ticked off cast members. Gibson previously defended Johnson in a since-deleted Instagram video of Johnson singing to Gibson's daughter.
Ludacris may also be playing a cryptic game of his own, posting a "tbt" photo of himself with several other Fast and Furious cast members. The group photo includes Diesel, but not Johnson. Oh, the shade of it all!