Hope Solo Booed At Rio Olympics Over Zika Comments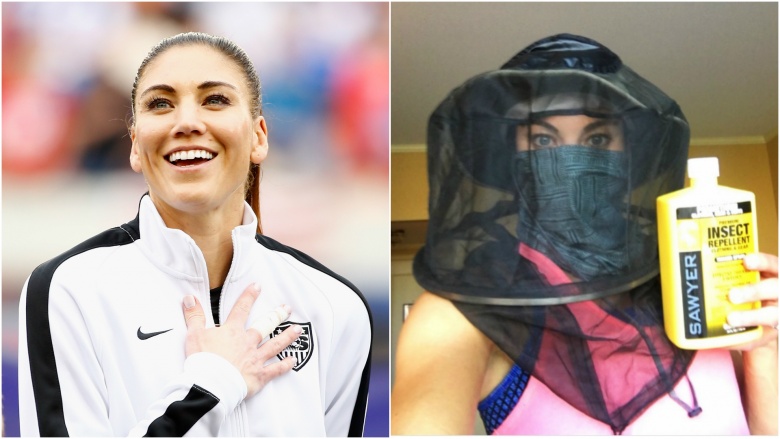 Getty Images
U.S. women's soccer star Hope Solo's trip to the 2016 Olympic Games in Rio is off to a bumpy start. According to The Washington Post, the 35-year-old goalkeeper was "booed [by Brazilian fans] every time she touched the ball" during the United States' match against New Zealand on Aug. 3, 2016. She was also subjected to "Zika! Zika!" chants from the crowd.
The reaction was reportedly in response to comments Solo made in recent months about the mosquito-borne Zika virus that continues to torment the world, but particularly Brazil. "If I had to make the choice today, I wouldn't go [to the Olympics]," Solo told Sports Illustrated in February 2016. "I would never take the risk of having an unhealthy child." Zika can cause birth defects in babies if a woman becomes infected by the virus while pregnant. "I don't know when that day will come for [my husband] Jerramy [Stevens] and me, but I personally reserve my right to have a healthy baby. No athlete competing in Rio should be faced with this dilemma."
Solo—who won Gold at the last two Olympics—obviously chose to attend the Games, but that didn't stop her from posting what some felt were offensive tweets about the virus in July 2016. In one tweet, Solo posted a photo of herself wearing a mosquito net over her head, a scarf around her mouth, and holding a bottle of insect repellent. "Not sharing this!!!" She wrote. "Get your own!" In another post, she showed off a photo of dozens of bottles of repellent on her bed. "If anyone in [the Olympic Village] forgets to pack repellent, come see me," she wrote.
Just before her match against New Zealand, Solo appeared to temper her previous reactions, telling the Associated Press that she felt "a little bit" bad for the people of Brazil because she felt the American media "has been really tough" on them over concerns about the Games, including the threat of Zika. "I actually spoke to three different infectious disease doctors and specialists," she said. "I spoke to them on the phone with my husband as well, and we got to a point where we asked enough questions. We prepared ourselves as best as possible and we got to a level of being as comfortable as we possibly can be.
"I'm wearing mosquito repellent just in case, I know the odds are very small but you can never be too safe," she continued. "I'm at a point in my life that I just want to be safe." She noted, "I never would want to offend the host country."
Solo and the U.S. team beat New Zealand 2-0.