Justin Bieber Posts Photo With Kanye West, Reignites Feud With Taylor Swift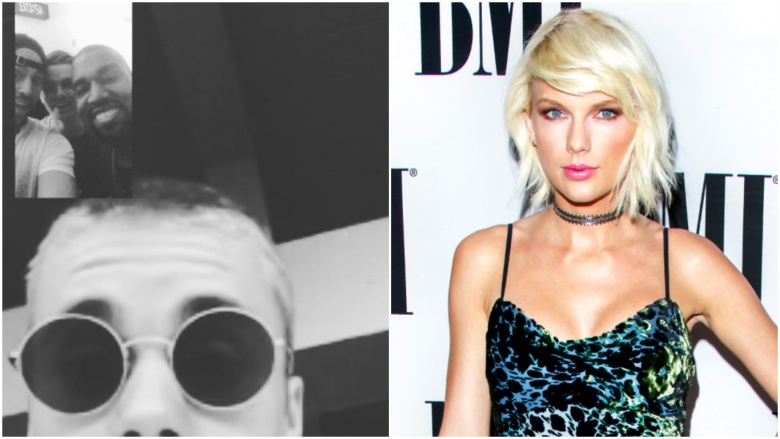 Justin Bieber is apparently taking sides in the ongoing drama between Kanye West and Taylor Swift.
The 22-year-old singer shocked fans on August 2, 2016 when he posted to Instagram a screenshot of a recent FaceTime call with West and his longtime manager, Scooter Braun. "Taylor Swift what up," Bieber's caption read.
The caption was a not-exactly-subtle reference to the drama that went down in July 2016 after West's wife, Kim Kardashian, posted videos to her Snapchat account that allegedly showed Swift approving West's controversial song, "Famous." The Snapchat videos marked a stark contrast to the reaction Swift gave to the press after the song was released in February 2016. The controversy was fueled by a lyric in which West refers to Swift as "that b****." Swift maintains she never approved the lyric and that it was not addressed in their now-exposed phone conversation.
In any case, that Bieber would choose sides with West over Swift shouldn't come as that big of a surprise, because, duh, Swift is close friends with Bieber's ex, Selena Gomez. In 2013, Swift seemed to confirm she wasn't a fan of the "Sorry" singer when cameras caught her sticking out her tongue after Gomez and Bieber shared a friendly kiss backstage at the Billboard Music Awards.
Even so, most fans thought all that drama had been settled in May 2016 after Bieber posted a video on Instagram of him listening to to one of Swift's first big hits, "Teardrops on My Guitar."
Swift's name has gone through the ringer in the press over the last few months. In addition to her feud with Kardashian and West, she was put on blast by her ex-boyfriend, Calvin Harris, after it was revealed that Swift had ghostwritten his hit single, "This Is What You Came For."
"I figure if you're happy in your new relationship you should focus on that instead of trying to tear your ex bf down for something to do," Harris wrote on July 13, 2016, referencing her new relationship with Thor star Tom Hiddleston. Harris later posed for a photograph with Kardashian at a birthday party for Jennifer Lopez.
Swift has kept a low profile in recent weeks, leading some to wonder if her previously PDA-filled romance with Hiddleston is on the rocks.