Michael Douglas' Son Released From Prison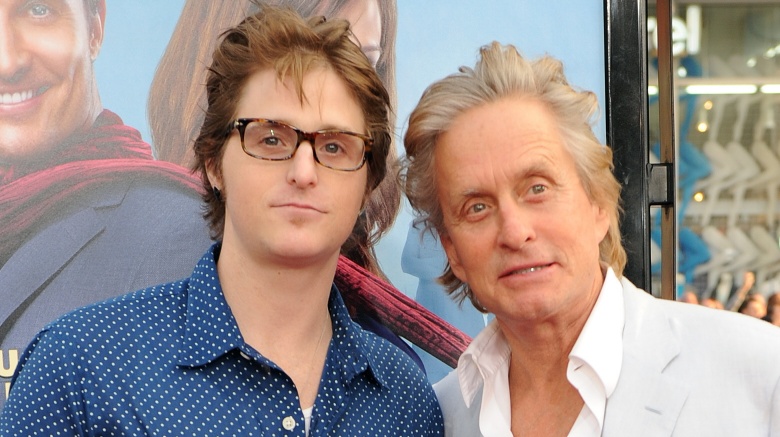 Getty Images
Cameron Douglas, the troubled son of Oscar-winning actor Michael Douglas, was "quietly released" from prison and is planning to write a book about his experience behind bars, Page Six reported on Aug. 1, 2016.
"Cameron will talk about his struggle being the son and grandson of Hollywood icons, and then his bad decisions which led him to jail, and then solitary confinement," a source told Page Six. "He is staying low-key after his release and plans to spend time with his father and mother. He believes this is a new start, and a chance at a new life."
Cameron—who has a long history of run-ins with the law—was sentenced to five years in prison in 2010 for "conspiring to sell crystal meth" and "possession of heroin," according to People magazine. The charges stemmed from a federal drug sting that took place one year prior.
In 2011, Cameron made headlines again after he was caught smuggling drugs into prison, earning an extended prison sentence. According to Page Six, Cameron was subsequently placed in solitary confinement for two years at Maryland's Cumberland Federal Corrections Institute. He was scheduled to be released in "early 2018."
Since his release, sources for Page Six said Cameron, 37, is "currently living at the GEO Care halfway house in The Bronx and working at a film production company in Manhattan." A nearby corner-store cashier claimed Cameron comes to his store every morning to buy coffee and a bottle of Smartwater. "He gets the $4 Smartwater and seriously drinks it in one minute—he says, 'That's how I do,'" the employee told Page Six. Cameron was recently photographed in Lower Manhattan holding hands with an unknown woman whom Page Six described as "a new girlfriend."
Cameron's problems with drugs have reportedly caused a huge strain on his famous family through the years and were rumored to be a contributing factor to his dad's temporary split from actress Catherine Zeta-Jones.
Throughout all the drama, Cameron's famous father has been outspoken about his son's time in jail. "Look, my son was a drug dealer and he's been trying to kill himself for a while and I can't condone his behavior," Michael told the Today show in 2010 (via E! Online). "I think the court recognized his drug addiction as well as the crime that he committed. It's an adequate amount of time...to spend in jail, and the best part of it is he will be able to start his life afresh."
In the interview, Michael also took some responsibility for Cameron's addictions. "Certainly family has a lot to do with it. I've taken blames about being a bad father, if being a bad father is working your butt off trying to create a career at one time," he said. "When I had Cameron I was early in my career, and as opposed to most jobs, making movies takes you all around the world, so you were absentee in that sense...We chose not to be living in Los Angeles but living outside, so you had to travel.
"I've also confessed the fact that I was in rehab 20 years ago...The other part, of course, is genes. I lost a brother with an overdose four years ago. I have another brother who has been on the program for years. My ex-wife's family has alcoholism running in it," he continued. "My priorities have completely changed," he added. "My marriage and my families come certainly before my career."
Michael and Cameron's mother, film producer Diandra Luker, divorced in 2000.