Kristen Stewart Is 'Really In Love' With Alicia Cargile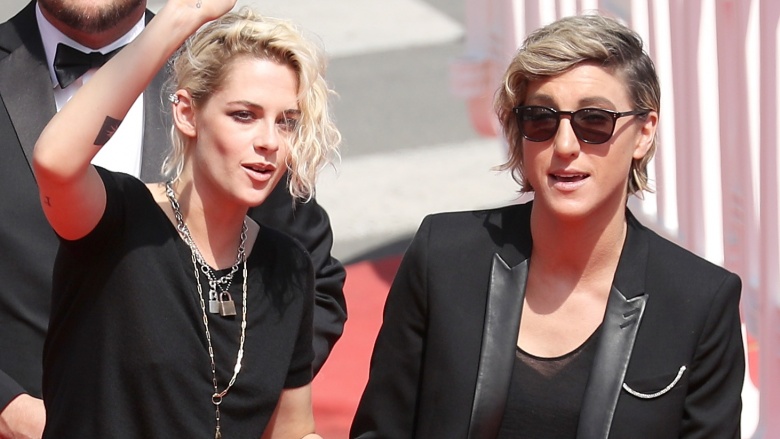 Getty Images
Actress Kristen Stewart is finally ready to tell the world she's in love with visual effects producer Alicia Cargile. "Right now I'm just really in love with my girlfriend," Stewart told Elle U.K. for its September 2016 issue. "We've broken up a couple of times and gotten back together, and this time I was like, 'Finally, I can feel again.'"
The Twilight franchise star—who has been photographed holding hands with Cargile on numerous occasions—went on to say that dating a woman has changed the way she approaches talking to the press about her private life.
"When I was dating a guy I was hiding everything that I did because everything personal felt like it was immediately trivialized, so I didn't like it," she said. "We were turned into these characters and placed into this ridiculous comic book, and I was like, 'That's mine. You're making my relationship something that it's not.' I didn't like that." Stewart may have been referring to her long-term relationship with Twilight co-star Robert Pattinson. She continued: "But then it changed when I started dating a girl. I was like, 'Actually, to hide this provides the implication that I'm not down with it or I'm ashamed of it, so I had to alter how I approached being in public. It opened my life up and I'm so much happier."
Though she has declined to define her sexuality, Stewart told Variety in May 2016 that she's "not hiding s**t," adding, "Me not defining it right now is the whole basis of what I'm about. If you don't get it, I don't have time for you."
Stewart said she does want to support the LGBT community, and she doesn't mind when paparazzi photograph her with other women. "As much as I want to protect myself, it's not about hiding," she told Variety. "As soon as you start throwing up so many walls, you cannot see over them yourself, so you just start isolating in a way that's not honest. I definitely found where I'm comfortable. I don't take credit for that."
Stewart appears in the new Woody Allen comedy Cafe Society, in theaters now. Later this year, she'll co-star in Ang Lee's much-anticipated Billy Lynn's Long Halftime Walk.