Things You Didn't Know About Miss Cleo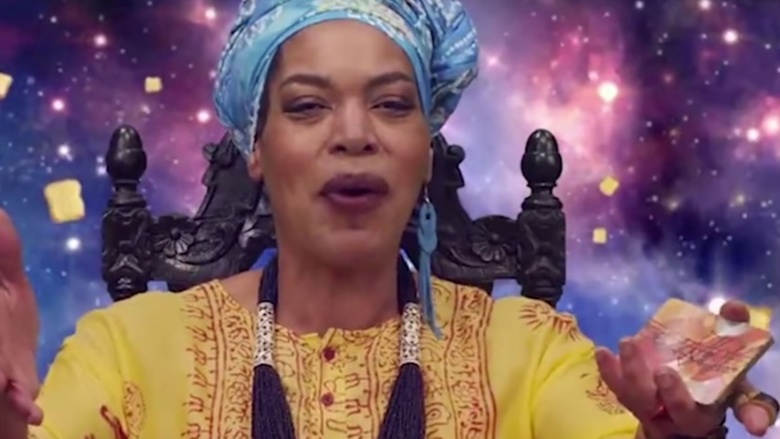 Chances are, if you were even remotely tuned into mainstream television around the turn of the millennium, you're familiar with Miss Cleo. The 800-number psychic line spokesperson summoned millions of viewers to dial in with her signature line "Call me now for your free reading," achieving viral stardom years before viral stars were even a thing. Everyone knew her name—or at least, her island-ish stage name. But there was a lot more to the late icon than her career as a tarot-turning TV commercial sensation.
She used close a dozen different aliases
Miss Cleo's real-life name was Youree Dell Harris, and she hailed from Los Angeles, California—not the Caribbean, where her alter ego was publicly promoted to hail from (her father reportedly did have some Jamaican heritage). But she was also been known to go by the monikers Ree Perris, Youree Cleomili, Youree Perris, Rae Del Harris, Cleomili Perris Youree, Cleomili Harris, among others.
Miss Cleo started as a character Harris portrayed in her own stage play "For Women Only," which she produced and performed in Seattle before being hired to become the face of the Psychic Readers Network. Those who worked on "Women" with her reported being stiffed for their performance payments after being told she had bone cancer and needed to cover medical costs before delivering their salaries. (Sadly, the faux prophet did eventually succumb to colon cancer, which spread to her lungs and liver, at the age of 53—but that was many years after her feigned illness.)
She took her distinct voice into video games, too
If you thought the Jamaican side character Auntie Poulet sounded a little familiar in Grand Theft Auto: Vice City, it's because when the game was released in 2002, Harris had one of the most ubiquitous voices in all of television. At the time, it seemed like she might be able to parlay her infomercial fame into a career in the vocal booth, but shortly after Vice City's release, the Psychic Readers Network was repeatedly sued by dissatisfied customers and indicted by the Federal Trade Commission for deceptive practices. Although Harris was not named in those filings, as she was merely an employee of the business, her ads stopped running shortly thereafter.
But Miss Cleo was no longer hers to sell even then
Harris might have created Miss Cleo from the ground up, but after the Psychic Readers Network used her to launch a billion-dollar business, their lawyers prevented her from reclaiming the character for a series of 2014 General Mills cereal commercials that would've played upon her popularity to promote French Toast Crunch. Attorneys for the PRN alleged the ads infringed upon their intellectual property rights because the commercials looked too similar to what she'd done for them.
She came out as a lesbian in 2006
Harris' teenage godson inspired her to reveal her sexuality in 2006 in an interview with The Advocate. "He and I started talking when he was concerned about coming out. He was 16. When he made the decision I told him I'd be there to support him 100% and he embraced [coming out] wholeheartedly. It's a different vibe than when I was his age, being raised Catholic in an all-girls boarding school. But he was afraid of nothing, and I thought, I can't be a hypocrite. This boy is going to force me to put my money where my mouth is," she said of her choice to publicly come out at the time. "The reason it's scary is because in my personal experience, black cultures throughout the world have a more difficult time accepting homosexuality in their family. I have family members who will be shocked; they don't know ... When I came out to a number of friends in the late '80s I had a number of friends who turned their backs on me and walked away."
She released albums of spoken-word poetry
Acting under yet another pseudonym, Cleo, Harris released spoken-word poetry albums called Convicted for My Beliefs and Full Moon Madness to express herself after being inspired by the 2007 campus shooting at Virginia Tech that claimed the lives of 32 people.
She had a good sense of humor about Miss Cleo spoofs
Harris told The Advocate that while she's a "sensitive person," she grew some thick skin after being the butt of so many jokes, and her favorite of them all was the Chappelle's Show bit inspired by Miss Cleo. She also gave permission to have her character's likeness featured on MTV's Celebrity Deathmatch video game—and even claimed to have played it a time or two.