Lamar Odom Escorted Off Flight After Vomiting On Plane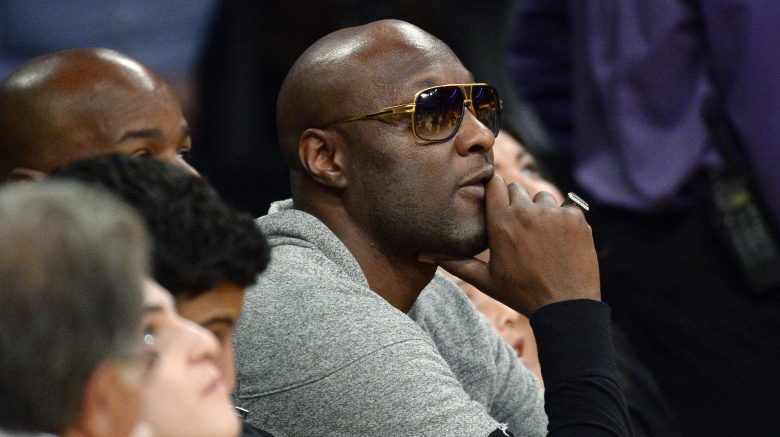 Getty Images
More troubling news for former basketball star Lamar Odom: according to TMZ, the 36-year-old was escorted off a Delta flight headed for New York City on July 11, 2016 after allegedly getting drunk in the airport lounge and vomiting on the plane.
Prior to boarding, eyewitnesses caught Odom "pounding down beers and whisky" in the Delta lounge at the Los Angeles International Airport. Sources add that he was "wasted" when he boarded the plane and sat down, reported TMZ. The drama continued when Odom allegedly got up from his seat and "bolted for the front" of the plane as it was about to pull back from the gate. He proceeded to throw up in the galley, then again in the bathroom while the doors were still open. Odom reportedly had vomit on his clothes as he exited the bathroom.
Odom was escorted off the plane, only to return again about 10 minutes later. Shortly after returning to his seat, sources claim Odom ran back to the bathroom and used "the heads of people in their seats to steady his balance," reported TMZ. Odom was then permanently removed from the plane.
This is just the latest in a string of worrisome incidents that have occurred since Odom was found unconscious from an apparent overdose at a brothel in Nevada in October 2015. Last month, friends and family confronted him over fears that he is using drugs again. During the confrontation, they allegedly found drug paraphernalia in his home. Also this year, Odom was caught drinking on two separate occasions. The combined effect reportedly led wife Khloe Kardashian to file for divorce for a second time.
"It's really sad for Khloé to see Lamar in an unhealthy place. She cares so much about him but she can only do so much," sources told People magazine on July 13, 2016. "She's not doing well," added another source. "She is frustrated because she knows there is nothing she can do."
In the wake of Odom's plane drama, an angry chastised Kardashian via Twitter for not being there to help her husband.
"Stay in your f****** lane little girl," Kardashian responded. "You know nothing about anything. You're a sheep herded by society."