Casey Anthony 'Bored' With Life Five Years After Acquittal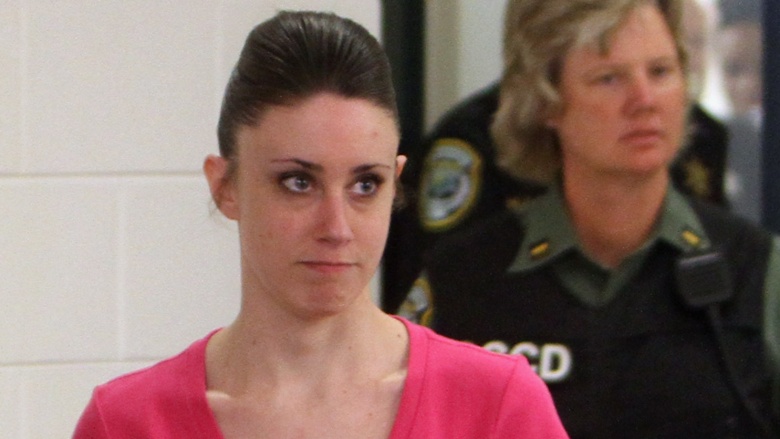 Getty Images
Casey Anthony is reportedly "bored" with her life five years after being acquitted of the high-profile murder of her two-year-old daughter, Caylee. According to a July 5, 2016 article in People magazine, Anthony is still living in South Florida. She reportedly receives financial support from "some members of her legal team."
People also confirmed that Anthony is still working on her photography business, Case Photography. However, that work hasn't kept her all that busy. "[She] has done very few projects," a source tells the magazine.
"[There's] not much is going on in her life," another source said. "She gets up each day, hangs around, checks the internet, takes some pictures, and doesn't do much. She can't hold a real job, and she doesn't really make a lot of friends, for obvious reasons. When people find out about her history, they usually bail on her. She's 30, with very few friends her age."
"She's got enough money to live, but not enough to really do anything," the source added. "She sort of lives like an old person, on a fixed income without much going on in her life. She's bored, and she complains about boredom all the time."
Multiple sources told People that Anthony no longer speaks regularly with her parents, George and Cindy Anthony, who have been battling financial troubles in recent years. "They don't really talk," one source said. "She has spoken with her mother a few times, but she doesn't talk to her dad at all," said another source.
As for her personal life, sources tell People that Anthony has started dating again. However, the number of dates has been few and mostly with men whom she met "through her very small legal circle," according to the report.
Anthony was released from Florida's Orange County jail in mid-July 2011 amid scandal and outrage from the public over the court's acquittal. She's remained largely out of the spotlight ever since.