Legendary Basketball Coach Pat Summitt Dead At 64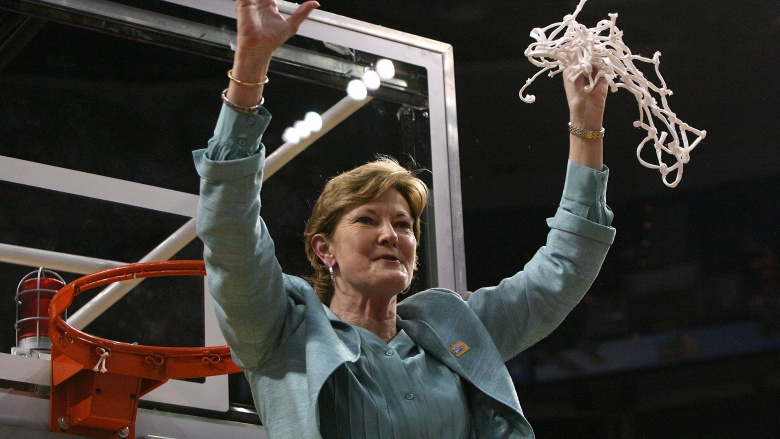 Getty Images
Pat Summitt, the fearless head coach who led the University of Tennessee women's basketball team to eight national victories, died June 28, 2016 after a five-year battle with early-onset Alzheimers. She was 64.
"This disease attacked a lifetime of precious memories, memories that she has now won back as she rests in her eternal home," the Pat Summitt Foundation wrote. "Memories that will live on in each and every relationship she developed throughout her life."
Summitt's remarkable career at the University of Tennessee began in 1974 when she was hired as the women's basketball team's head coach at the young age of 22. As The New York Times notes: "she was barely older than her players." Summitt's auspicious beginning led to a record-breaking career at UT. When she retired in 2012, she finished with a career record 1,098 wins and 203 losses in 38 seasons—the most career wins of any Division 1 men's or women's basketball coach. In that time, she brought the Lady Vols to 18 NCAA Final Four appearances. Six of the team's eight national championship titles were won in the span of just 12 years.
"Pat was the greatest coach of all time; her fierce spirit will live on through her players, and through all of us who were inspired by her on a daily basis," Jimmy Cheek, the university chancellor, said in a statement. "Our sincerest sympathies go out to Tyler and all her family and friends. Words fail to express how proud we are that Pat Summitt's name will forever be linked to the University of Tennessee."
Summitt—who won a silver medal at the '76 Olympics before coaching the women's team to Gold in 1984—retired from coaching after being diagnosed with early-onset dementia in 2011. She was awarded the the Presidential Medal of Freedom by President Barack Obama in 2012.
In 2013, Summitt spoke to People magazine about her battle with Alzheimer's. "I think it is what it is," she said. "I didn't want to hear it [the diagnosis]. But it was reality, you know. You don't want to run away from it. For me, it's very important to keep living my life."
Summitt's health reportedly began to fail in the days leading up to her death, as indicated by messages from friends and family on social media. "Hope you don't mind that I ask for prayers for a dear friend close to the end of her journey. Would mean a lot to her [family]," Good Morning America anchor Robin Roberts wrote on Monday.
She is survived by her son, Tyler, 25. Her 27-year marriage to her husband, R.B. Summitt, ended in divorce in 2007.