Will Jeff Gordon Be Kelly Ripa's New Permanent Co-Host?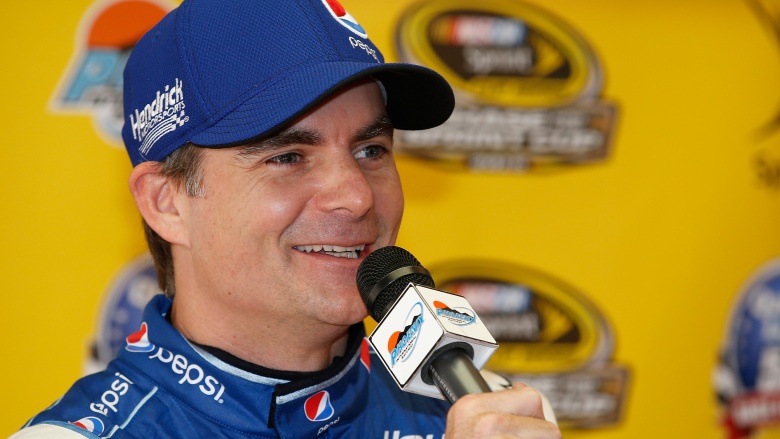 Getty Images
Jeff Gordon is reportedly in the running to replace Michael Strahan on ABC's popular daytime talk show Live! The NASCAR icon says he's totally interested in the highly coveted gig.
"I am flattered that my name has been associated with that," Gordon told the Associated Press (via Page Six) over the weekend. "I've always maintained a great friendship with the show, some of the producers and folks within the show. I had a great time co-hosting, and I certainly would welcome it." However, Gordon did not reveal whether he was actually in formal talks with the show. "It's been really interesting to see that unfold, but I really don't have anything that I can say about that." he told the AP.
Gordon's comments came just as he was set to call his final auto race of the season for Fox Sports. Despite his interest in Live!, Gordon says his relationship with Fox remains his top priority. "My priority is Fox and Fox Sports, and NASCAR," he said. "I will definitely be back in the booth next year; if there was something that could fit into and around that, great." Gordon began analyzing for Fox Sports this season.
The 44-year-old car-racing legend is one of many names that has been considered for Live! since Strahan departed in mid-May 2016. Rumored contenders for the job include former Parks and Recreation star Rob Lowe, CNN correspondent Anderson Cooper, and Watch What Happens Live host Andy Cohen.
ABC announced in April 2016 that Strahan would be leaving Live! with Kelly and Michael after four years to join Good Morning America in the fall. As widely covered by Nicki Swift, the announcement exposed a tense relationship between Strahan and Ripa that had allegedly been brewing for years. Ripa was reportedly blindsided by news of Strahan's departure. She boycotted the show for several days and returned the following week to give a now-famous speech about respect in the workplace.
In a recent interview with Chelsea Handler, Strahan admitted he hasn't missed the daytime talk show since he left. "Don't get me wrong. I loved it. When you get a break, sometimes you kind of go, 'Wow, I kind of needed it.' I needed a break," he said.