Kim K Calls Out 'Victim' Taylor Swift For Lying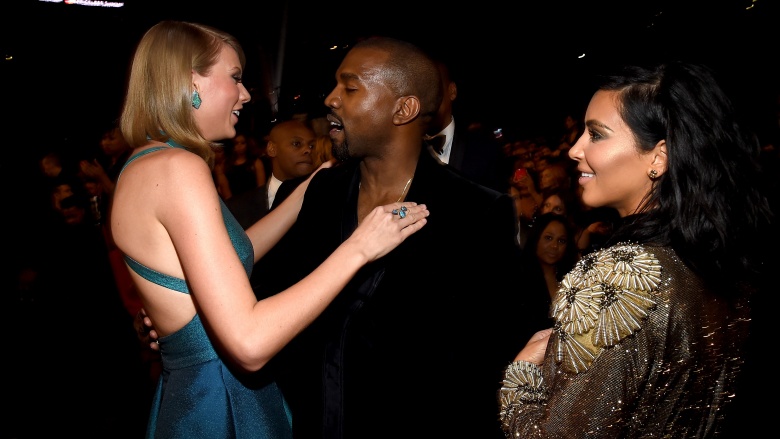 Getty Images
In the case of Kanye West v. Taylor Swift, Kim Kardashian is very clearly standing by her man. In a GQ cover story published June 16, 2016, Kardashian said Swift knew her husband was planning to rap about her in The Life of Pablo album and "totally gave it the okay."
According to Kardashian, West and Swift discussed lyrics in detail with others listening. "It was funny because [on the call with Kanye, Taylor] said, 'When I get on the Grammy red carpet, all the media is going to think that I'm so against this, and I'll just laugh and say, 'The joke's on you, guys. I was in on it the whole time,'" Kardashian said. "And I'm like, wait, but [in] your Grammy speech, you completely dissed my husband just to play the victim again."
What exactly happened?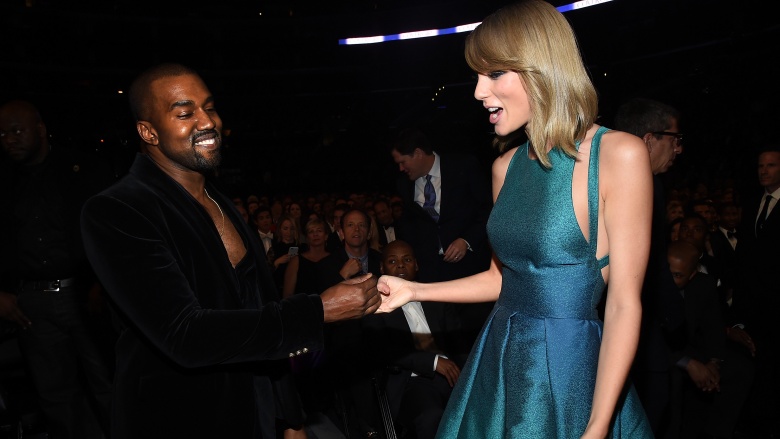 Getty Images
In the first verse of "Famous," West raps about his on-again, off-again feud with Swift, which dates back to the time he interrupted her acceptance speech at the 2009 MTV Video Music Awards. "I feel like me and Taylor might still have sex," he raps. "Why? I made that b**** famous."
That lyric led to an immediate backlash, forcing West to defend himself on Twitter. "I called Taylor and had a hour long convo with her about the line and she thought it was funny and gave her blessings," he posted in February 2016
A rep for Swift denied the phone call ever happened, claiming instead that West called and asked Swift to simply post the song on her Twitter account. "She declined and cautioned him about releasing a song with such a strong misogynistic message," the rep told US Weekly. "Taylor was never made aware of the actual lyric 'I made that b**** famous.'"
Swift also appeared to reference the scandal while accepting the Grammy award for Album of the Year a few days later. "I want to say to all the young women out there—there are going to be people along the way who are going to try to undercut your success or take credit for your accomplishments or your fame," she said. "...someday when you get where you're going, you'll look around and you will know that it was you and the people who love you who put you there. And that will be greatest feeling in the world."
Both sides aren't backing down
Getty Images
Whatever the case, both camps appear to be sticking to their side of the story. Reps for West told GQ there is video footage of the conversation he had with Swift and confirmed that her attorneys had contacted West.
Swift's spokesperson issued a lengthy statement that said, in part, "Taylor does not hold anything against Kim Kardashian as she recognizes the pressure Kim must be under and that she is only repeating what she has been told by Kanye West. However, that does not change the fact that much of what Kim is saying is incorrect."