This Was The Youngest Person Ever Given The Death Penalty
The Land of the Free is the incarceration capital of the world. Figures from Statista show that as of July 2019, the U.S. had 655 prisoners per 100,000 citizens. That's roughly 100 more than Turkmenistan, a dystopian police state where "people are afraid to say a word," according to the Guardian, due to rampant arrests of government critics and acid attacks by the secret service, as one journalist endured in addition to beatings. Besides highlighting the Orwellian contradiction of a free nation placing so many citizens behind bars, those stark statistics hearken to how brutal the U.S. criminal justice system was in the recent past.
Until 2005, it was legal to execute juveniles in the United States. As Oyez details, the case of Roper v. Simmons put an end to capital punishment for citizens under 18 years of age. In a 5-4 ruling, the Supreme Court held that executions violated the Eighth Amendment prohibiting cruel and unusual punishments. This decision nullified the 1989 opinion in Stanford v. Kentucky, which deemed it legal for states to sentence 16-year-old's to death. Sadly, as you go back even farther in time, the age gets younger. Here are the youngest children put to death in the U.S.
Justice turns a blind eye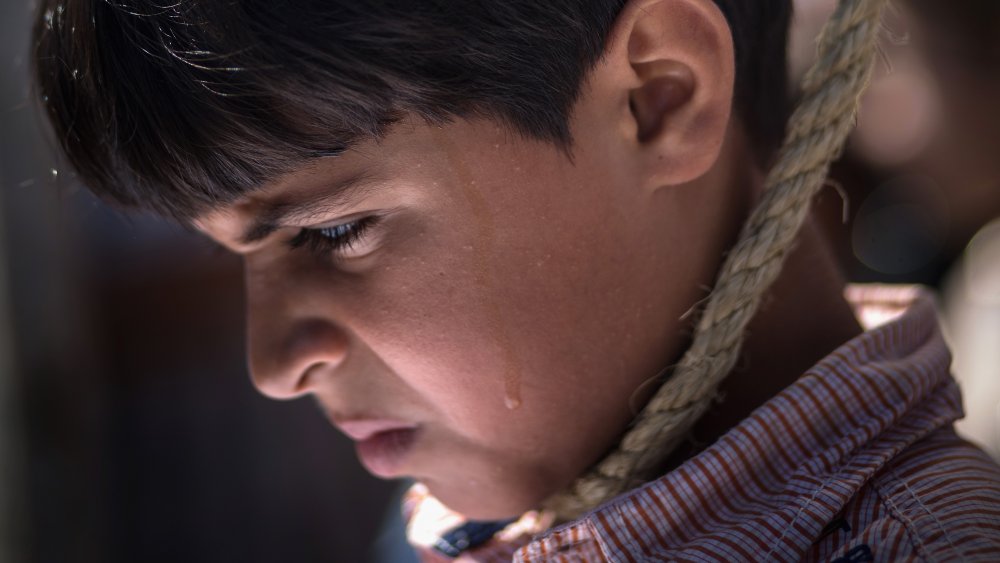 Christopher Furlong/Getty Images
The youngest person ever sentenced to death wasn't actually executed until adulthood. Via the Juvenile Justice Information Exchange, in the late 1800s, 10-year-old James Arcene, a Cherokee child, allegedly joined in a murder-robbery and was sentenced to death. After evading capture for 13 years he was hanged in 1885. The youngest girl ever sentenced and perhaps the youngest ever executed was another Native American child, 12-year-old Hannah Ocuish.
According to Connecticut History, she was questioned in connection to the vicious murder of a 6-year-old girl. Hannah recalled seeing four boys near the scene of the crime but when no corroborating evidence turned up, she was interrogated in front of the little girl's corpse. Under duress, Hannah, who may have also suffered from a mental disability, began weeping and provided what sounds like a forced confession to murder. She was hanged in 1786.
The youngest child put to death in the 20th century was 14-year-old George Stinney Jr. As the Guardian describes, Stinney, a black boy living in the Jim Crow South, was charged with murder after the bodies of two white girls were found in the black part of the segregated town of Alcolu, South Carolina. The prosecution offered no physical evidence, and Stinney's siblings believe police coerced a confession out of Stinney. An all-white jury took less than 10 minutes to condemn that child to die in the electric chair in 1944. In 2014 a South Carolina court exonerated him.