The Bizarre History Of The Razzies
Robyn Beck/Getty Images
The story goes that around 1980, John J. B. Wilson went to see a 99 cent double feature that ended in an impassioned plea to get his money back. In an interview with the Hollywood Reporter, he recalled that the films being shown were Xanadu and the Village People's disco musical Can't Stop The Music, so it's not like he picked a bad hill to die on, but the theater wouldn't refund his ticket price.
On the drive home, Wilson mourned his lost dollar and considered the situation: there were award shows celebrating the best in filmmaking, but the truly awful went unrecognized. With the injustice of this fact shaking him to his very core, the gears began to turn. A potluck dinner was organized, a podium was built from cardboard, and on March 31st, 1981, the first annual Golden Raspberry Awards took place in Wilson's living room.
It was golden low hanging fruit.
The best of the worst, and also Bill Cosby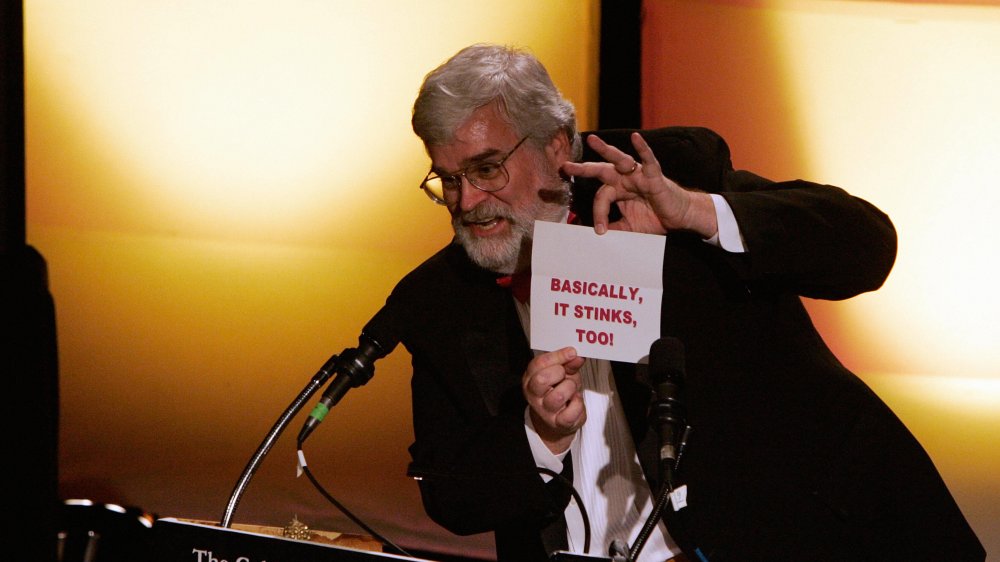 Hector Mata/Getty Images
What started as a goof between friends swiftly grew into the North Star of Hollywood snark. By the fourth year, CNN was reporting on the event.
Things took an especially positive turn when Bill Cosby showed up, which just isn't a sentence you get to read all that often anymore. In 1988, Cosby became the first celebrity to officially accept a Razzy, having the cheaply constructed joke trophy recreated with gold and Italian marble. It soon became a strange badge of courage for actors and filmmakers to show up and take their lumps. In 2005, Halle Berry grabbed headlines by taking the stage and delivering an eight-minute acceptance speech, describing Catwoman with words that would've bumped its MPAA rating up a rung.
From humble beginnings, the Razzies have become a staple of awards season, celebrating their 40th ceremony in 2020, an auspicious event which would have marked the first time that the awards were televised — the coronavirus pandemic led to an unfortunate cancellation, and the winners were announced via YouTube.